Firm History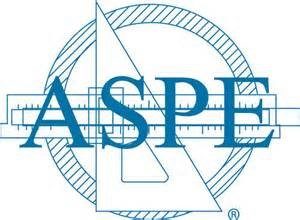 Schendt Engineering Corporation was established in July 1999 with the goal of providing quality engineering services to commercial, institutional, governmental, and industrial clients. This quality service is instilled by the high moral and ethical standards that are the foundation of the corporate philosophy. These quality standards are accomplished by communication with the project team ensuring that the client's needs and expectations are met. Schendt Engineering is a small business enterprise setup as an S-Corporation, and is an employee owned corporation. We have grown from a one-man operation to employing thirteen. This includes five licensed professional engineers, mechanical and electrical engineers, designers, drafting and accounting staff.
Coordination and Communication
Communication with the Owner and sub-consultants is the most critical component of project management. Schendt Engineering will use a variety of methods to coordinate work including telephone for verbal communication, ftp for file access, and e-mail for electronic data transfer capabilities.
Partnering/Teamwork
Partnering is a process designed to encouraging teamwork for the mutual benefit of all. The partnering process is utilized on virtually every project to maintain the fundamental concepts of teamwork. This partnering process is performed continually on an informal basis on all projects and can be performed on a formal basis if desired by the project team. To be effective, each team member must communicate, recognize, and address issues in a timely manner that affect the profitability of each team member.
Quality Control
Schendt Engineering Corp. provides very detailed construction documents. We are very analytical in our system design and recommend quality products and components. We view the design documents from a constructability standpoint as if we were the contractor. We also consider the maintainability of the system in our design as if we were the user. SEC uses the Redi-check Interdisciplinary Coordination to cross-check between architectural, structural, civil, mechanical, and electrical design documents. In addition we perform a plan in hand walk through of the project during the 100 percent review stage of the project. Schendt Engineering Corp. is also a code consultant for several Colorado State Agencies. This requires us to keep current on local code requirements.
Energy Conservation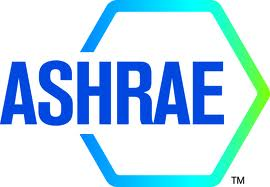 Energy is a precious resource that we cannot afford to waste. It needs to be conserved in order to allow future generations to enjoy the comforts and standard of living that we enjoy today. SEC considers the impact of efficiency and energy conservation in every design project. We have been involved in numerous energy studies for central plants; when evaluating efficiency, a life cycle cost analysis must be performed to accurately evaluate the benefits. Our design philosophy stresses energy conservation including compliance with ASHRAE/IES 90.1 and minimizing the life cycle cost of the project.
Protection of the Environment
At Schendt Engineering Corporation, we believe that the environment we live in must be protected. We consider the environment in every project that we design. In steam & hydronic distribution systems we consider chemical emissions from cleaning and chemical treatment to avoid contaminating our water streams. In chilled plant chiller projects we select equipment to minimize ozone depletion and global warming. We also consider stack emissions on large central plant boiler projects.
Aesthetics
Aesthetics plays an important role in every work environment. Mechanical systems can have a substantial impact on the aesthetics of a facility. SEC has a deep appreciation for the architectural aesthetics of each facility. We will endeavor to preserve these qualities by wearing our "Architectural" hat to coordinate and blend the mechanical systems into the desired aesthetic qualities of the facility.
Safety and Maintainability
We are always concerned about contractor safety during construction and compliance with OSHA requirements. More important is the safety around equipment for maintenance staff after the project is complete. We consider the close-in environment around equipment in our design to maximize personnel safety and equipment maintainability. We try to avoid designs requiring confined space entry for maintenance when possible.
Project Vision

Our vision as mechanical consultants is to provide the best indoor environment and most energy efficient facility possible. This can be accomplished by carefully considering the functional use and aesthetic qualities of each individual space. This will require careful coordination and communication with the Owner to insure that future needs are adequately addressed. The indoor environmental issues that we are concerned with are those related to the comfort and safety of the occupants. These include space temperature, indoor air quality, lighting, and the aesthetic conditions of the space. Each of these items must be carefully considered in the design of a project. In-depth analysis, proper design, and system selection are the key to controlling each of these elements for the functional use of the space. These include the use of economizer cycles, energy efficient lighting, direct digital controls, temperature reset schedules, etc.. Simple design parameters such as increasing the operating temperature differential on hydronic systems can provide a substantial energy savings as well as initial cost savings due to pipe sizing. Occupant thermal comfort is primarily a function of equipment selection and zoning within a facility. Proper zoning is best accomplished by considering the functional use and building exposures. SEC specializes in the design of heating ventilating and air conditioning systems, central utility plants and distribution systems, utilities infrastructure, control system design, and plumbing systems. SEC also provides high performance HVAC systems design including HTHW (High Temperature HW), Ground Source (geothermal) Heat Pumps, Thermal Storage, and Solar Thermal. Other services include commissioning, building energy audits (ASHRAE Level I – III), MEP Facility Assessments, and energy modeling.
LEED Certification
SEC has two LEED legacy accredited professionals on staff.
System Commissioning
SEC offers enhanced construction administration for our design projects and standalone commissioning services by staff certified by ACG, ASHRAE, and the Building Commissioning Association. SEC owns test equipment to allow us to verify proper operation of the mechanical systems in support of our clients; partial list of test equipment and measuring devices:
Shortridge ADM-870 Airdata Multimeter
Shortridge Flow Hood
Shortridge HDM-250 Hydronic Multimeter
Vaisala HM 70 Humidity & Temperature Meter
Vaisala handheld CO2 sensor
Controlotron 1010EWDP Dual Channel Ultrasonic Flow Meter
FLIR T360 Forward Looking Infrared digital camera
Fluke 1524 Dual Channel Temperature Calibrator
Simpson Sound Meter
Infrared & Digital Thermometers and Hygrometer
Monarch Tachometer
Model HR-787 Refractometer
Cost Estimating
Schendt Engineering utilizes the latest RS Means Mechanical, Plumbing, and Site Work Cost Data to provide a probable opinion of costs. In addition we have developed a database for estimating controls based on previous project experience. We prepare estimates of probable cost during the Pre-Design phase of the project and continually update the cost estimate throughout the design process. We prioritize and use additive alternate bids for items that are considered desirable but not essential to control the budget or allow the using agency to spend the monies available. Our projects have bid very close to our estimated cost. When estimating the cost of a project, we consider the local economic conditions, the difficulty of the work, project constraints and apply the appropriate factors for the work.
CAD Capabilities
Schendt Engineering is currently utilizing latest versions of AutoCAD, AutoCAD MEP, and Revit for drafting software. These software packages are compatible with previous versions of AutoCAD and allows easy conversion for our clients and project team. SEC has purchased and adopted the National CAD standards layering system which is identical to the American Institute of Architects (AIA) layering system. This allows our drawings to transfer seamlessly to other consultants that have adopted the latest CAD standards.
PAST PERFORMANCE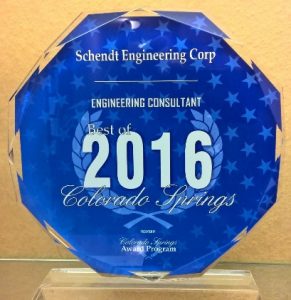 Awards: SEC has genuinely worked in the best interest of our clients by focusing on their needs and therefore have not sought recognition for our design efforts or pursued design awards. We are grateful to our clients and the business community for recognizing our efforts and nominating us or presenting us with awards on several occasions. The following is a list of nominations and awards we have received over the past few years:
2008 Small Business Contractor of the Year nomination, for Consulting Engineers,
by the Small Business Administration.
2009 Small Business Contractor of the Year nomination, for Consulting Engineers,
by the Small Business Administration.
Best of Colorado Springs – 2008, by the United States Commerce Association.
Best of Colorado Springs – 2009, by the United States Commerce Association.
Best of Colorado Springs – 2010, by the United States Commerce Association
Best of Colorado Springs – 2011, by the United States Commerce Association
Best of Colorado Springs – 2012, by the United States Commerce Association
Best of Colorado Springs – 2013, by the United States Commerce Association
Best of Colorado Springs – 2014, by the United States Commerce Association
Best of Colorado Springs – 2015, by the United States Commerce Association
Business Hall of Fame – 2015, for 8 consecutive years of awards
Best of Colorado Springs – 2016, by the United States Commerce Association
 Colorado Springs Business Hall of Fame by the United States Commerce Association
REPEAT CLIENTS
Schendt Engineering Corporation works very hard to build relationships and is proud to say that while we don't have many clients we have "repeat clients". This is due to our corporate philosophy to take care of our clients at all cost. This philosophy has worked very well for us. The following is a list of our clients, the number of projects that we have worked on for them and the number of years that we have been working for them:
| Client | No. Projects | No. Years |
| --- | --- | --- |
| Hewlett Packard | 143 | 22 |
| USAF Academy | 89 | 22 |
| Colorado College | 62 | 16 |
| VAMC – Grand Junction | 23 | 16 |
| Agilent Technologies | 21 | 12 |
| Col. Dept. of Military & Veterans Affairs | 28 | 19 |
| Colorado Dept. of Corrections | 38 | 9 |
| Denver University | 18 | 11 |
| Colorado Springs Utilities | 14 | 12 |
| University of Northern Colorado | 11 | 18 |
| Colorado Springs School District 11 | 26 | 8 |
| Academy School District 20 | 31 | 5 |
| HB&A | 93 | 16 |
With a corporate philosophy to take care of our clients at all cost, "we measure our success by our repeat clients".